• Berries • Branches • Christmas • Christmas Decoration • Dried Orange • Handmade • Homemade Wreath • Making Bows • Tartan • wreath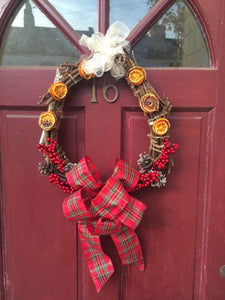 I made a wreath to save myself pennies many years ago but this time it was a reason to use the autumn/winter change of nature as were the intention of wreaths in the past. I had twigs & branches a from a tree that needed to be given a second life and so after many months I decided to cut them up into useable pieces and get crafting a winter wreath for my front door! I took a wire coat hanger and pushed it out into a circle, then tied like sized branches together and started tying them to the...
---
• christmas • decorations • how to make a wreath • How to tie a wreath bow • marks and spencers • thrift • wreath tutorial
I have spent a few days looking for a wreath I could buy, I have never had one before and as this is the first year in my own home & living with my partner, I decided I would like one for my door. After looking at various shop bought ones, I came across one in Marks & Spencers that I quite liked & that was in the 'affordable' range but still expensive at £15. I was flicking through my Ideal Homes magazine - that's right I am becoming 'that' person - and there was a comparison of expensive to cheap options...
---
• #SBS • cork board • handmade • inspiration board • lace • memo board • notice board • rose gold clips • small business • stationary • upcycle your pin board • vision board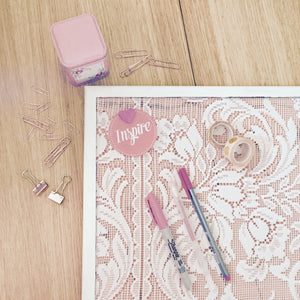 How to Make a Vision Board
---
• Business News • SBS • Small Business • Theo Paphitis • Twitter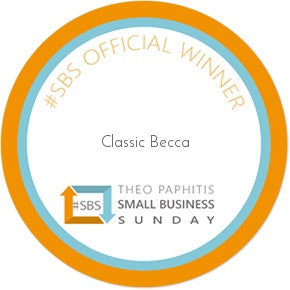 I launched my website www.classicbecca.com in September 2016 and have been working on new stock, marketing and design. I had seen #SBS on Twitter which is a 2.5 hour slot on Sundays where you can tweet Theo Paphitis (Dragons Den, Rymans, Red Letter Days) with your pitch of your small business, to be in with a chance to win Small Business Sunday (#SBS). I had considered doing it the previous week but had missed the time slot, then Sunday 30th October I tweeted Theo Paphitis. The next day I travelled to Manchester and forgot all about it, as I had no thoughts that I...
---
• Autumn • Classic Becca • Eye Mask • Hot Water Bottle • Shower Cap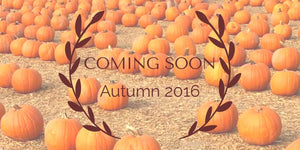 The nights are drawing in and that can mean only one thing, pamper and cosy time! I have a quick 10 day holiday to go on (brag alert) so will need to be dipping back into summer mode briefly but can't wait for coming out the other side when the candles, blankets and baths are a must! A few things I've made for my shop (and self) is my autumnal shower cap which I can't wait to use for my baths and when I stop washing my hair quite as frequently. Then there's the gorgeous hot water bottle cover that will...