• beetroot • bistro set • containers • flowers • garden • garden furniture • greenhouse • growing vegetables • lavender • lettuce • pots • seedlings • small garden • spring • sun • sunflowers • turquoise
My favourite season is spring, It's full of hope, ambition and the first days of sun. People wear light and colourful clothing, start to smile, and the over zealous nature of our nation makes me mock yet admire the spirit in people when the hot bright sun comes out. For me this year I want the sun, but not for me - for my plants! It makes me happier too, but to see the effect it has on my new hobby is so fulfilling yet I have to keep a constant eye on my seedlings and small-garden-pot-crops.  Every morning I go outside...
---
• balcony gardening • biodegradable • birds • feeding birds • garden • gardening • greenhouse • growing veg • herbs • recycling • repotting • seedlings • seeds • self sufficient • small space gardening • soil • spring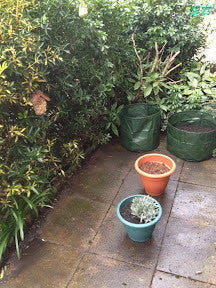 I have been attempting the start of semi-self sufficiency with growing my own vegetables, salad, and herbs. All is going well thus far but this is the stage I always mess up. Today I bought a green house and some garden bits and bobs (soil, pots, Buddha statue...) when I say I have a garden I mean a very small space with a bush or two. But it's all I have to work with so work with it I shall. I bought some planters the other week and I have been waiting to replant my seedlings into them but we...