• a nice salad • abel and cole • avocado • chorlton • classicbecca • eggs • food • gherkingate • gherkins • how to use gherkins • lettuce • make a salad • recipe • salad • sundried tomatoes • vegetables • vegetarian • veggie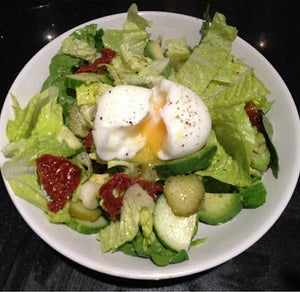 My GherkinGate™ Lunch (Story below - Warning Contains Swearing)   Ingredients:   Serves 2-3 people   Romaine Lettuce - Thinly shredded Cos Lettuce (Delivered in my Abel & Cole veg box) - Chopped 5-6 Sundried Tomatoes - Thinly sliced 1 Gherkin - Thinly sliced 1 Avocado - Scooped out & sliced 1/2 Cucumber - Sliced & halfed 2 Spring Onions (or called salad onions in some places) - Sliced in circles 2 Soft Boiled Eggs - I boiled mine for 4 minutes & rested for 30 seconds before peeling Salt & pepper Garlic & Herb Dressing - Shop bought, mine is...
---
• artichokes • classicbecca • cooking • paella • recipe • spain • spanish • sundried tomatoes • vegetables • vegetarian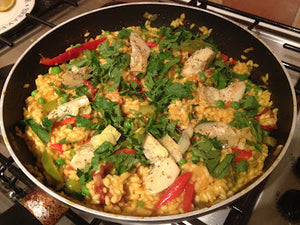 MrP had an M&S paella for lunch the other day and I realised I hadn't had one for so long, possibly since becoming veggie. So I thought, I am going to make a vegetarian paella with things I like in it and that would go well. It's difficult to find good recipes for veggies that are have meat versions so I thought I would share my creation with you, as it was pretty darn good!   Serves 4 people Ingredients Olive oil - a glug 1 medium onion - finely chopped 2-3 cloves of garlic - crushed/chopped 2-3 peppers red...
---
• brie • camembert • classicbecca • FILO scraps • Jamie Oliver • light lunch • London • recipe • starter • stilton • sundried tomatoes
Ingredients: Scraps of FILO pastry 100g Brie/Camembert 50g Stilton or a blue cheese  30g Wensleydale 2 slices of bacon 6 sundried tomatoes 1 Egg Glass of wine for chef This is the kind of recipe that you would make with leftovers, I came up with this as I didn't want to waste the scraps of FILO that were broken and not useable with the recipe I was making (Jamie Olivers Lamb Pastillas) Raid the fridge and make up your own versions with whatever you have in. You'll just need a melting cheese and whatever else you have to hand.  Method: Preheat...